Starting A Gift Basket Business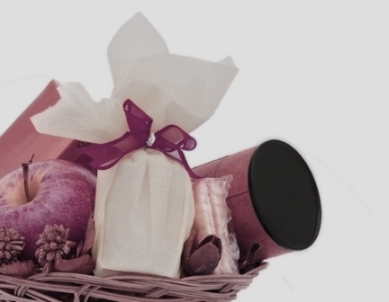 Thinking of starting a gift basket business? Uncover what it really
takes for your gift basket business start up to succeed.
Why Gift Basket Businesses Are Thriving
One of the surprisingly fastest growing types of businesses is a gift basket business.
If you are looking to start a gift basket business, then you are in good company. Many people are pursue the gift basket industry because it is a business that is easy to start, and can berun it from home.
Probably one of the most enticing features of the gift basket business is the fact that you can do it for very little money.
The past several years has shown a rather explosive growth in popularity due to the increased number of home based businesses and independent shops that are marketing to the corporate market.
When You Start A Gift Basket Business - Give Your Business An Edge By Thinking Broadly
When you think of starting a gift basket business, think broadly - gift baskets are given/used in a number of ways.
When people and businesses are looking for the perfect gift to send to someone they care about or clients that they want to show appreciation to more of them are looking for gift baskets.
Often schools also use gift baskets as a way to raise money for the school or for a school program.
A gift basket can be customized for an event, a specific dollar amount that a client has to spend or the person that the basket is being sent to.
Starting A Gift Basket Business - The Start Up Process
The first thing you are going to need to do is make a few decisions, for example what types of baskets will you offer?
Are you going to work out of you of your home or will you rent a retail space?
If you are working out of your home make sure that you have the space that will be needed to store your materials and space to assemble your baskets.
After Deciding The Types Of Gift Baskets You Will Offer, Think About Who Your Customers Will Be
Then you will need to decide how to market your business and who will be your target market?
You should also create a budget, when you are just getting starting it best to start slow.
You don't want to get overzealous and overbuy inventory that is going to sit in a closet.
Starting A Gift Basket Business - The Next Steps
You should create a name that best represents the image that you are trying to promote.
I highly recommend a website as well.
Don't limit yourself to local businesses or customers when you can go global.
Assemble a few sample baskets, take photos and post them on your site and use them on your flyers or ads that you post to generate business.
Starting A Gift Basket Business - Determining How Much Money You Can Make
Starting a gift basket business isn't complicated. However you have to understand that your income will be direct reflection of how hard you work.

Not only how hard you work but how well you package your products.
Consider The Estimates From The Industry Insiders
Most people that only work their gift basket business part time make about $10,000 per year and those that operate a retail store or mail order business full time have made a $1 million and up.
The sky is the limit when it comes to how much you can make.

The Gift Basket Review magazine did a survey and off the 72% of the people that responded they reported their gross sales of at least $50K and 27% reported their sales had reached $200K or more.
Starting A Gift Basket Business - Determining What Basket You Will Sell
When you think through what type of gift baskets to sell, think about it in terms of the 'delight' principle.
Who is it, exactly, that you want to benefit from your services?
Which customers would benefit the most from (a) giving your gift basket as a gift or (b) receiving your gift basket as the recipient?
Also, it helps to concentrate on your competition by asking yourself what can I do so well that people will want to choose me over my competition?
When Starting Your Gift Basket Business, Always Remember That Today's Gift Basket Business Is Not The Same As The Gift Basket Business From Days Gone By
It's a very competitive place out there where the most creative/customer-focused gift basket businesses win.
When you think about gift baskets, think outside of the 'basket'.
Think creatively, and think about what will make your customer WANT to send someone your gift basket.
Starting A Gift Basket Business - What You Can Offer
The possible types of baskets are as endless as your imagination.
You can offer your clients a wide range of gift baskets or you can focus on a smaller segment. Here are a few different types of baskets that people offer:
Food baskets/gourmet food baskets - these are the most popular for businesses and customers to give to clients, family and friends.
These can be filled with chocolates, gourmet foods, cheeses and wine, snacks or other foods.
Shower Baskets - these are great baskets for life changing events such as a wedding, a birth, graduation or other big events.
Bath and Body- these are also popular and can be filled with lotions, soaps, candles, bath salts, body mists and other aromatherapy products.
Starting A Gift Basket Business - Managing Inventory for your Gift Basket Business
Keep in mind that shopping is going to be as big of an activity as promoting your business.
Shopping can take you anywhere from one hour to four hours to all day.
It will really depend on the basket and the items that you are going to fill it with.
Just make sure that you spend an ample amount of balancing the need to shop for your business with the demands of managing your business and finding customers for your business.
Also, Strive To Not OverBuy - It's Too Easy To Accumulate Too Much Of Something And Then Face The Need To Have To Store It Somewhere
Your inventory should only grow as your sale increases, though you want to make sure you have the basics to get started.
You can purchase these items wholesale or pay retail for them.
The items that you are going to need in large quantities, such as the baskets, should be bought at wholesale because it is going to allow you to save money and make a bigger profit.
Starting A Gift Basket Business - Marketing Your Gift Basket Business
Two of the most effective techniques are word of mouth and happy customers.

Take the time to make sure you demonstrate true craftsmanship in creating your products, that you use quality items in your baskets and that you deliver them on time.
You can also advertise in the Yellow Pages and newspapers and online advertising markets such as Facebook.
You basically want to spread the word about your business and generate a want or desire for your baskets.
Your marketing should also help create an image about your business and that image should help convince potential customers that you are the only place they can get incredible baskets.
Starting A Gift Basket Business - Figuring Out How Much to Charge
You don't want to price your baskets to low so that you aren't making money, but you don't want to set the prices so high that you lose customers.

You should consider the type of basket, the more specialized the basket the higher the cost can be...conversely the more generic a basket the more reasonably priced the basket should be.

Taking a look at what one leading business magazine has to say, you should net 15-30% of your gross revenue and this is accomplished by doing a 100% mark up of the items in the basket.
You also need to think about the time it took you to create the basket, the materials, the cost of the items, a small percentage of your overhead costs and any other costs that you incurred to make that basket.
Do not short change yourself but underestimating the value of your time.
To help you can take a look at the prices that some of your competitors to make sure you are not out pricing yourself (again either too low or too high.)
Starting A Gift Basket Business - The Bottom-Line
Starting a gift basket business is a great small business idea.
The key to starting a successful gift basket business lies in really thinking through what you will offer and who, specifically, your business will serve.
The most successful gift basket business owners are those who take the time to really listen to their customer-base, and then put together a gift basket that will knock their socks off.
Starting a gift basket business gives you the opportunity to truly win the hearts (and pocketbooks) of those people who want to give a gift that makes the recipient smile.
So your bottom-line job is to start a gift basket business that will make both the giver and the receiver truly appreciate what you have put together.
Here's To Your Success With Finding Small Business Ideas That Fit Your Passion!
P.S. Here's A Few More Tips To Make Your Search For A Small Business A Success...
Tips From The Trenches - Share/Read Gift Basket Business Tips Here
Have you tried - successfully (or unsuccessfully) - to start a gift basket of your own?


Or...do you have any words of advice for those entrepreneurs who are looking get a gift basket business off the ground?


Read What Other Visitors Have Said
Click on the links to read what others have said about what it REALLY takes to start a successful (and profitable) gift basket business.


They were all written by other visitors to this page.