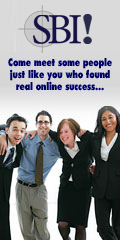 There are so many tasks to attend to, yet you are ready to get your business up and running…right now.





And right there, in the midst of all that harried activity, you are hit with the reality that you will have to find a way to get your website up and running.

Okay, sounds easy enough…but then you are hit with the reality that you don't have a clue about where to go to create a website for your business.



And, if you were anything like me, you've started signing with some of those WYSIWYG builders
that offer a free trial
They are fun and exciting, because they give you a way to start building an awesome website on-the -spot.
But then, you are hit with other web-design realities....
How is it that you can be assured that you are building a site that will actually attract your customers?


What is it that you must do to ensure that Mr. Google comes around and get your site out there in front of people?



And come to think about it, what is it that you are supposed to be writing on that site anyway?



And...how does that keyword thing work? How is your site is found when a searcher is using a keyword search on Google?


In fact, there's something a little unsettling about using the WYSIWYG web-design process…but you can't quite put your finger on it.
You goal is to get your website up and running with as little techie-education as possible.



But...the more you think through all of those details, the more you think that you just don't have what it takes to make it happen right now.


But right now, you are wondering if this is even possible.




It seems like you have this overwhelming learning curve to deal with.


In fact, if you've got to cram yet-another-new-piece-of-information down your throat you might have to scream.




And…after all of these efforts, you still haven't quite nailed down where do you go to create a website that will showcase your new business in the best possible light.



Where do you go to create a website that gives you the confidence of knowing that your web building efforts will actually pay off.




I encourage you to do whatever you can to keep your goal of owning your own business moving.



I've been there, done that.


Learn from my mistakes, read my story.




I tried almost every WYSIWYG website builder out there…



and for about a year-and-a-half my website building efforts were seriously stalled because I didn't have a clue on how to make it work.

Don't stay stuck in the never-ending ready, aim, I'm-too-overwhelmed cycle that caught me.
Take your time and evaluate various web building alternatives.



Think though the pros and cons of each alternative.



Then choose the alternative that allow you to build your business website and move your business forward with

confidence,

a sense of mastery, and

a sense of peace,




Now, take the next step.

Click here to take a video tour of the web-builder I used to actually get this web-site up and running.


---
It's Time. Find Out What You Should To Get Your Business Website Up. Your Answer To "Where Do You Go To Don't Give Up. Create A Website For Your New Business?" Is Right Around The Corner.
How I Built This Site. Find Out What I Used To Get This Business Started.


Web Builders. Look For A Web-Builder That Will Foster Business Growth. Business Website Builders - Reviews.


The Power of Using the Right Keyword. Learn What it Takes To Build a Website That Draws Traffic.


Learn How To Design Resource-Rich Web Page. The Danger of Letting Them Leave Your Site Empty-Handed.

Build An Ecommerce Site. How To Build An Ecommerce Web Site That's Sure to Excite, Delight, and Get The Sale.

The Power of Using the Right Keyword. Learn What it Takes To Build a Website That Draws Traffic.


Attracting Vistors to Your Site. How to Start A Business Website That Will Make Your Web-Visitor Remember You At "Hello".