Why It's Important To Find A Commercial Kitchen For Rent Before You Start
Your Home Baking Business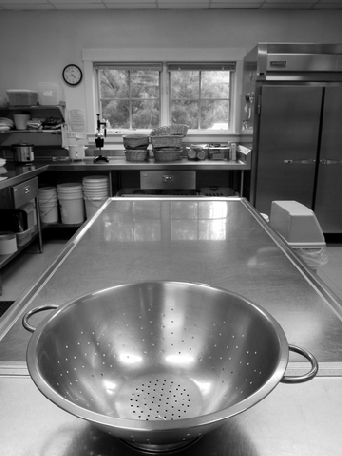 If you are looking to find a commercial kitchen for rent, then listen
to the tip from this home baking business owner - it could
save you a lot of time, hassle, and frustration.
When Starting A Home Baking Business, Resist The Temptation To Skip Over Doing Your Homework
When starting a home-based baking business, You want to make sure that your business is legal and meets all of the requirements of your local health board.
Be proactive in your approach by calling your local health department directly to ensure that you don't need to to find an outside commercial kitchen for rent to run your actual homebased baking business.
Don't Think You Can Run Your Home Baking Business From Your Home Without Getting Caught
If you think you can run your home-based baking business from your home kitchen without getting caught...beware, it could end up costing you dearly. This is a story all too familiar for one home baking business owner. Let's listen to her story as she drops in to tell her harrowing story of having to find a commercial kitchen for rent in a hurry...or risk losing the business she had built from ground up.
Dear Latarsha and Other Home Baking Business Enthusiasts,
Starting A Home Baking Business Just Made Sense For Me
Baking has been in my family for years, my father and grandfather were both bakers, so naturally, I would become one too. The problem was, there were no real bakeries in my area that were hiring, so what I did was I started my own at home baking company.
When I Started, My Company, We Quickly Became Known As The Company For Small Social Gatherings
Typically deals with small scale orders for social gatherings with the occasional standard birthday cake request. The majority of our work is petite fours, which we ship out in dozen count boxes.
My Need To Find A Commercial Kitchen For Rent Came Suddenly
Unfortunately I had no idea that there were legalities surrounding at home cooking businesses as I got a call from the board of health informing me that I had to move my business to an outside kitchen to allow me to continue with my sales.

Since my at home baking business was my primary means of income, I had to find a commercial kitchen for rent fast...so I took the first kitchen that I found available, which was unfortunately, a bad deal.
Since I Was In A Rush I Settled For The First Commercial Kitchen For Rent I Count Find (What A Mistake)
Since I was in a rush to get set up so that I could re-establish my income, I needed to get settled in the first place, which charges me a full-time fee of $1000 a month. While the kitchen is beautiful, I am currently on the hunt for a cheaper space for rent to allow me a great profit margin.
Starting A Home-Based Baking Business Is Not For The Faint Of Heart - Do Your Homework
I would definitely recommend starting an at home baking business to others, on a few conditions. First off, make sure you know the legalities of this inside and out, getting shut down without supplemental income is a scary thing that you don't want to go through, trust me.
Not researching the legalities is one of my all-time regrets about starting up my business, and almost put the business as well as me into bankruptcy.

So, above all else, do your homework.
Starting A Home-Based Baking Business - The Bottom-Line
While I know this may sound - umm, simple - it needs to be said: If you are looking to start a home-based baking business with success, I would suggest to make sure you know how to bake.
I've met so many other people who want to start up companies that think baking is simply mixing a few ingredients together like the box says and putting on frosting.

While a pretty cake will get you notoriety, a delicious cake will get you many repeat customers, and a tasty cake just doesn't come from any sort of pre-made mix.
Here's To Your Success With Starting A Home Baking Business That Customers Will Crave!
P.S. Here's A Few More Tips To Make Your Search For A Small Buisness A Success...
How to Start A Home Baking Business That Customers Can't Resist
6 Essential Home Baking Business Pricing Tips
How To Deal With The Legalities When Starting A HomeBased Baking Business