Hot New Business Idea - Solar Energy
by Mike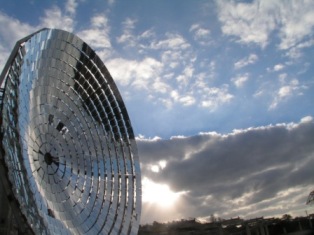 With the cost of energy on the rise, the solar power business industry is booming!
Ideas for new businesses can be found by looking into the solar power business.


The cost of energy, including electricity, is going up.



So...how can you beat the trend and make profits doing it?


Get into solar energy.






Several current trends support the solar power business as a source of great ideas for new businesses.




Firstly, energy cost are rising, and solar electric systems last 25 years, guaranteed.


Secondly, due to aging power lines, changed laws, and increased interest in secure energy sources, distributed sources of energy, such as solar, are becoming more practical and popular.


Thirdly, large electric companies are being required to produce part of their electricity from clean, renewable sources.



And these renewable "portfolio" standards require more solar systems to be used.






Oh, and here's a bonus when you are starting your solar power business.




Many solar power business opportunities and ideas for new businesses can come from looking at companies that have specialized in installing solar electric systems on homes and small businesses specialize in the electrical and construction work.


Many of these solar power business companies are actively seeking passionate entrepreneurs who would be willing to start a new business that specializes in selling their electrical and construction services.



Thus, You don't have to be an expert.


You don't have to climb a ladder or be a licensed electrician or have a large amount of capital to get started.


You stay on the ground and keep your capital in your pocket while making commissions on these solar electric systems.






Solar electricity is the beginning of several larger long-term trends.


Ideas for new businesses in the solar power business market are also supported by many initiatives started by the US federal government.



In fact, many states are making it easier than ever to purchase a solar electric system by providing tax benefits and grants or rebates.


Most of the information to get you started has been assembled in a single easy to use resource on the internet at http://www.dsireusa.org.







The solar business is a specialized business with a relatively small field of companies.




Check with local inspectors, funders (state agencies), and others and identify the company you would be proud working with.


Visit several job sites to see if they are safe, clean, and professional.


Visit several customers whose systems have been up and running for more than a year.



Talk to those customers about their experience.






One of the best ways to get started in the solar power business is to contact licensed contractors that are ALREADY active in the solar energy business.




Some states, such as California and New Jersey, have publicly available lists of state approved solar contractors.


Make sure to contact and interview several different companies.


Some companies limit their sales strategy to homes, just businesses.







Ideas for new businesses and opportunities in the solar power business are just ripe for the picking.




Make sure that the company will provide the support that you will need to be a success.



Find the one that fits you best by checking to determine whether your preferred solar power business company has a list of satisfied customers or


Also ensure that they guarantee their labor and quickly resolve any "call backs or complaints".






Best of luck in finding a solar power business opportunity that will help you to soar!
Join in and write your own page! It's easy to do. How? Simply click here to return to The Hot New Business Ideas Discussion.