How To Be An Entrepreneur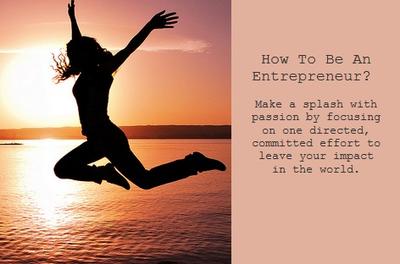 How To Be An Entrepreneur? Start With Passion, Add A Dash Of Sacrifice, A Wallop Of Dedication, Lots of Drive, Relationship-Building And Strategy
Characteristics That Make A Successful Entrepreneur
The thing that drives me to be an entrepreneur is my passion for the cause.
In my cause, this is food, but for other entrepreneurs this may be anything at all.
To start, someone needs a spark.

Passion, an idea, or even a once-in-a-lifetime chance that provides the initial motivation to get organized and get started.

Entrepreneurs Distinguish Themselves As People Who Have Dedicated Their Lives To A Purpose.


Whether that purpose is education, outreach, social change, technology, or anything else, the entrepreneur has integrated his or her work and free time into one directed, committed effort.


It's the directed, committed effort gives us insight into the 'how to be an entrepreneur' question.


The Entrepreneur Has Little "Time Off," Few Breaks, And Initially Starts Alone.
He or she must have self-compassion and self-respect in order to keep going and launch their idea.
Fortunately for budding entrepreneurs, there are a variety of local, statewide, and national collaborations where people can share their ideas and find social support.
Everyone you meet as an entrepreneur is a potential customer, another person in your network.
In exchange for this sacrifice, an entrepreneur gets to be their own boss, and enjoy the satisfaction of watching their dream become a reality.
The Best Advice Of Becoming A Successful Entrepreneur Is To Understand The Importance Of Relationship-Building
One piece of information I have to offer to future entrepreneurs (and anyone looking into how to be an entrepreneur) is never to burn a single bridge.


Everyone you meet is important and deserves your attention and respect.


Whether they are a potential client, partner, or advisor, networking is key.


Since I have begun my entrepreneurial journey I have felt a sense of dedication and drive that other jobs haven't offered me in the past.