If You Have A Hand For Baking, Then Consider Starting A Gift Basket Business That Specializes In Baked Goods
by CC
(Kansas)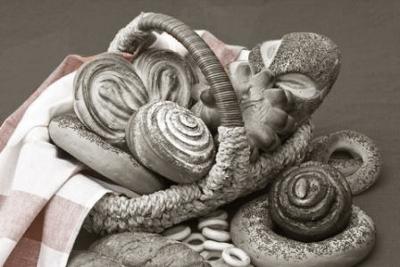 If you are thinking of starting a gift basket business, then think broad. There are no rules that say that a gift basket has to be filled with trinkets and such.
My Idea Of Starting A Gift Basket Business Came As A Result Of Divorce
My idea to invest in a small business began after a rough divorce where I soon learned the importance of independence and self-sufficiency. After pitching my idea to a few potential investors, I gathered the start up capital necessary to create my store.
Six Years Later, I Am Now The Proud Owner Of A Booming Baked Good Gift Basket Business
We specialize in baked good gift baskets though we do special request baskets that contain special items such as flowers, and small toys at an extra charge.

We pride ourselves in our superb customer service and personal connection with our products, from purchasing locally grown ingredients to bake with, to hand making each and every enchanting sweet delight.

That, along with our superior quality, is indubitably what keeps my small business afloat even in times of economic hardship.
If You Are Thinking Of Starting A Gift Basket Business, Know That Creativity And Innovativeness Helps You During The Down Economic Times
Our business, like many other businesses, has to find a way to survive during the down economic times. We've learned how fight low spells in the business by constantly inventing new and unique basket ideas.
Selling Items Individually As Well As In Gift Baskets Also Helps Us To Overcome Tough Economic Times
Along with the ever-changing baskets we also sell the baked goods individually. This also serves as a safety blanket for times when gift baskets are not in high demand.

By using the same product for a dual use, the company manages to continue to turn a profit with no additional inventory or labor cost.
If You Are Thinking Of Starting A Gift Basket Business, Fight The Temptation To Overstock
Of all the things I have learned from creating a business I find that the most important is to not overstock. During the first year of my business it was difficult for me to be able to approximate how much product to supply at any given time.

Since our gift baskets are mainly of perishable items, it became costly to pre-produce the baskets and then find there be no demand for that given product.

The most important thing to remember in this instance is to be attentive with demand and be able to strike a balance with the supply aspect. By my second year of business I had the ability to compare the previous year?s demand and plan accordingly.
My Bottom-Line On Starting A Gift Basket Business And Why Pre-Planning Is Key
What ultimately enabled me to establish a business and keep it running profitably is my business pre-planning.

Even before seeking investors I personally chose to enroll myself in some small business management and finance night classes at my local community college so I wouldn?t be over my head once I had the business up and running.