Starting A Home Baking Business Wasn't Easy For Me - But It Was Well Worth It
by Marla W.
(New Mexico)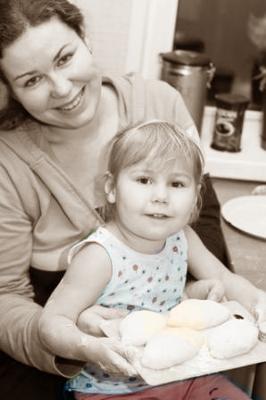 When I combined my home baking business dream with online marketing, my home based business came to life
Ever Since I Was A Child, I Wanted To Create My Own Business
As I got older, the dream slowly faded because of grades in school and lack of experience in the kitchen.

My grandmother taught every child in our family how to bake right when we were able to walk basically.

I just happened to fall in love with baking.

I could bake anything with instructions - pineapple upside down cake for my great grandpa on his birthday, brownies, cupcakes, cakes for occasions and more.
For Me, The Idea Of Starting A Home Based Baking Business Was An Easy Choice
Once I got older and decided that I needed something to do once I got to college, I realized that all I wanted to do was bake.

I didn't want to work with computers, I didn't want to teach, I didn't want to be a lawyer and I most certainly didn't want to be a princess.

I wanted to be in the kitchen, flower on my shirt and icing on my fingers.

I wanted to bake cake and cupcakes.

Where Online Marketing For My Home Based Business Came Into Place
Honestly, when I started my home baking business, I really didn't want to mess around with trying online marketing for my home based business.

I didn't want an online business at first - I wanted a 'real' building with a 'real' sign, screaming the name of my bakery out to the entire world.


I wanted advertisement and workers and glass show cases displaying the beautiful cupcakes and cakes.
My Dreams Of Owning A Physical Baking Business Gave Way To An Online Presence
Though I had dreams of owning a 'real' business in a 'real' building, my budget - or lack thereof - soon made me turn to trying online marketing for my online business.

Because no matter what they will tell you, it's always hard to start up your own business in a real building if you're tight on money.

So instead, I set up an online baking website for Columbus, Ohio.
Eventually I Found Doable Home Baking Business Idea
I sat down and decided on what I wanted to sell and decided on cupcakes, not cakes, and how much I wanted to sell them for.

I figured I would go cheap but not too cheap and sell cupcakes for 50 cents each and for bigger orders, 12 cupcakes for 15 dollars and 24 cupcakes for 25 dollars.

My Cupcake Business Make It Easy For Me To Keep My Prices At A Manageable Level
The prices are easy to manage.
I also found a way to offer specialty cupcakes which are made allergen-free for people who have allergies - I've learned how to make allergy-sensitive cupcakes which are practically free of anything that people could be allergic to (within reason).
My Bottom-Line Advice On Starting A Home Bakery Business - It Not Easy, But It Sure Is Worth It
Starting my own business was not as easy as you think it is.
You have to have practice and you have to know that you can't give up no matter how bad things go.



If it is truly your dream to own your own home baking business then you need to know that you need to get yourself out there.


I made business cards and asked friends and eventually, my bakery business online set off.
Soon, I'll be heading off to pastry school and business classes and I will start my own real business in Columbus with all the works and I will make my dream come true.