What Is An Entrepreneur? My Advice To You After 10 Years Of Being An Entrepreneu
by Marilynn
(California)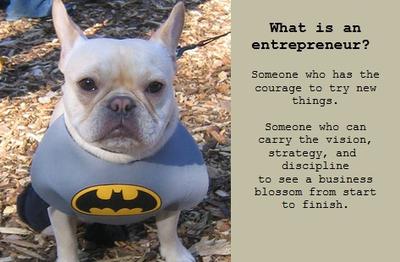 What is an entrepreneur? If you're willing to create, manage, and work for yourself, you just may have what it takes to be an entrepreneur. Just have the courage to bring your vision to life and try new things.
What Is An Entrepreneur? That's The Question I Had To Ask Myself After Being Fed Up With A Variety Of Employers
I became driven to be an entrepreneur after becoming fed up with a variety of employers.
I hated adjusting my life to their whims and then, when they encountered financial problems, having to deal with layoffs.
I wanted more control over my work life and income; hence, I decided to go into business for myself.

I've been an entrepreneur for more than a decade and can honestly say I never want to work at a "regular job" ever again.

Ten Years Later - My True Answer To 'What Is An Entrepreneur?'
Entrepreneurship means working for yourself to make as much money as you can.
You are responsible for everything, including (but not limited to)...


Envisioning the idea for a company


Finding funding for it to finding a location,


Buying equipment,


Opening up for business,


Handling the advertising,


Hiring employees,


Training employees,


Firing employees,


Developing procedures to get the job done,


Dealing with customers,


Dealing with vendors,


Billing,


Counting the money that comes in,


Handling all banking matters, and


Figuring out new and better ways to do things.


Frankly, I wish I had known how much work it would be before I became an entrepreneur.


The benefits of being an entrepreneur make all of the responsibilities worth it because I get control over my work and life, I get more money than I ever would as an employee, and I get to follow my dreams.
If You Are Seeking An Answer To 'What Is An Entrepreneur?' Then You Will Need To Understand The Entrepreneur Mindset And How It Differs From That Of An Employee
The mindset of entrepreneurs is totally opposite from non-entrepreneurs (i.e., employees).
Entrepreneurs need to be enterprising, creative, very self-disciplined, hard-working, and leaders.

They need to always be coming up with new ideas and strategies to make their businesses better.
The Employee Mindset Is Totally Different From The Entrepreneur Mindset
Being an employee is totally different.


Your company tells you what to do and you do it.


Your ideas may or may not be welcome.


If there's no work to do, you get to get paid for resting.


If the company fails, it's not your fault.


In Contrast, No One Tells Entrepreneurs What To Do.
Rather, an entrepreneur has to figure out what needs to be done and get it done one way or another.
Entrepreneurs never rest - there are no breaks because there is always something that needs to be done.
For an entrepreneur to be successful, he or she needs to think and act like one and NOT an employee or else the business venture will be doomed.
Hmmm...Come To Think Of It, I Learned Alot About The 'What Is An Entrepreneur?' Perspective As A Child
I come from a family of entrepreneurs, so I knew what to expect before I became one myself.
My father, in particular, is my hero - his service business is #1 in our area, such that his competitors actually will subcontract their services to him.
When Trying To Answer The 'What Is An Entrepreneur?' Question, It Helps To Understand That We Entrepreneurs Share A Common Set Of Characteristics


We entrepreneurs share certain characteristics, including extreme independence, an inability to put up with idleness, an inability to put up with water-cooler conversations and the usual office chit-chat, and a hatred of wasting our time.


We're about getting the job done well, efficiently, and profitably, not "passing the time" from 9-5.


We entrepreneurs also have a lot of ideas that we want to implement.


We hate being told "No."


If You Are Thinking About Becoming A Successful Entrepreneur Yourself, Then You Will Have To Develop The Habits Of An Entrepreneur
In order to become a more successful entrepreneur, I have had to develop good habits, including becoming more self-disciplined -


I have to work and can't afford to lounge around.


I have to develop courage to try new things (for instance, create a website for my business) and I have had to learn how to hustle for new customers.


I have also had to overcome my fear of rejection - some customers will not like my services, no matter how hard I try, and that's the way it goes.


And Trust Me, If You Are Attempting Your Hand At Becoming A Successful Entrepreneur, You WILL Face Challenges
If you are asking yourself the 'What is an entrepreneur?' question, then please do understand that successful entrepreneurs learn how to face their challenges head-on.
Challenges - and working through them - are simply a reality of starting your own business.


When I encounter challenges (which is often) I become frustrated. However, I can't let the frustration stop me.


I like to work out at the gym to burn off steam.


I think about whatever's troubling me when I'm exercising and I often come up with solutions.


For example: for me, hustling for new customers and saying "No" to undesirable ones are my biggest challenges.


It's still a struggle, but I'm hoping that managing customers will become easier over time.


If This 'What Is An Entrepreneur' Talk Has Encouraged You To Become An Entrepreneur, Then Start Talking With Other Entrepreneurs
If you want to become an entrepreneur, I would suggest talking with other entrepreneurs in your line of business and ask them questions about how they started, what their daily duties are, what plans they have for their businesses.
The Small Business Association (www.sba.gov) holds low-cost one-day workshops that provide lots of useful information for newbie entrepreneurs.

My Last Piece Of Advice - Don't Be In Such A Hurry To Quit Your Day Job
I encourage you to go ahead and start your entrepreneurial journey now.
If you have been asking yourself the 'What Is An Entrepreneur' question, and feel that you have a business idea that's burning in your heart, then go ahead and pursue your dream of becoming a small business entrepreneur!
You won't regret it!
Just don't be in such a hurry to quit your day job.
If you already have a day job, try to hold onto that and start your business in your free time.
That way, you'll have the best of both worlds until your new business starts to make a profit, at which point, you can quit your day job and never look back!